---
SB34 is a non-profit association that provides artist studios on fair and affordable terms. SB34 is also managing projects spaces in which artists and art workers are invited to connect and to collaborate on topics such as organization and sociality of artistic production and exchanges.
---
Latest news
---
@SB34-The Pool

11-13-14-15.5.2022

Books in the pool
On the occasion of
Saint-Gilles Gallery's night
, a set of artists publications from SB34 residents will be exhibited in The Pool.
With contributions from:
les éditions la CAB (Brieuc Weulersse, Alan Jeuland and Charles Pigneul), Alix Dussart, Pauline Hatzigeorgiou, Julie Larrouy,
Jacques Le Bourgeois, Maëlle Maisonneuve & Léa Mayer, Niels Poiz, Charlotte Sadowczyk, Marion Séhier, Lucile Van Laecken.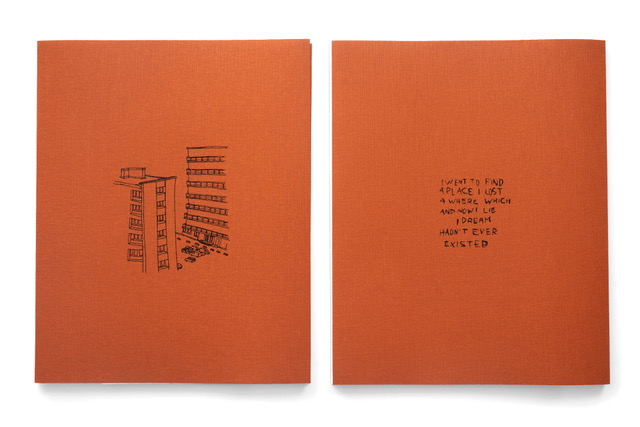 Open on:
Wed 11.5 / 6pm>9pm


and within the framework of Atelier in beeld:

Fri 13.5 / 6pm>10pm
Sat 14 & Sun 15.5 / 10am>6pm

SB34 - The Pool: Rue Saint Bernard, 34 – 1060 Brussels


©On est venus ici pour la vue by Pauline Vanden Neste and Tom Lyon, ed. la Cab, 2021.
---
@SB34-Clovis
29.4 > 4.6.2022

Parking me

Mona Ivy F. , Fabrice Schneider & Zinaïda Tchelidze
text by Piero Bisello


𝗢𝗽𝗲𝗻𝗶𝗻𝗴
Thursday 28. April 2022
2 - 8 pm
𝗔𝗿𝘁 𝗕𝗿𝘂𝘀𝘀𝗲𝗹𝘀 𝗪𝗲𝗲𝗸𝗲𝗻𝗱
Friday 29. - Saturday 30. April & Sunday 1. May
2 - 6pm
𝗢𝗽𝗲𝗻𝗶𝗻𝗴 𝗛𝗼𝘂𝗿𝘀
Saturday
2 - 6pm
and by appointment
info@sb34.org
+ 32 4 65 20 57 42
SB34 Clovis
87 boulevard Clovis
1000 Brussels
www.sb34.org
*With the support of Fédération Wallonie- Bruxelles
---
Available in Brussels in the following bookstores : rile, Wiels, Peinture Fraîche, Filigranes,
and in Paris at Centre Wallonie-Bruxelles

rosa rosa rosae rosae
Book
Produced in conjunction with the exhibition that took place at Maison Pelgrims (10/9-23/10/2021), the book presents original interventions by the artists of the rosa rosa rosae rosae project.
edited by Pauline Hatzigeorgiou / SB34
graphic design by Tipode Office
With the support of Fédération Wallonie-Bruxelles (aide à l'édition) and Région Bruxelles-Capitale (Image de Bruxelles)
---
>More info
---
SB34 - The Pool
Rue Saint-Bernard 34/ground floor
1060 Brussels


---
SB34 - Clovis

Boulevard Clovis 83-85-87
1000 Brussels


---